About us
Dear Customers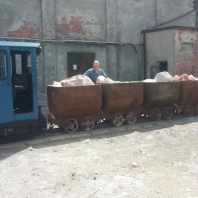 We have produced crystalline salt lamps since 1995. During the production we strive to maintain the beauty of the natural crystal and at the same time, manufacture a safe product which is easy to use. Lamps have been tested by TÜV Rheinland Product Safety GmbH Berlin

and have been awarded with a safety certificate

We also have a safety certificate and a certificate of the. Our lamps could be seen and purchased in the Polish pavilion at the HANNOVER EXPO-2000 show. We were the first company in the country to have that used the spring bulb replacement system, which is very easy to use. Our original pattern is the lamp "Latarnia [latern]", in which we use small salt crystals. All these facts caused that big German, English and American companies have became out customers. This does not mean that we forget about our small clients, on the contrary - everyone who will be enchanted with the natural beauty of the salt crystal and wants to take advantage of its positive properties is our friend.
We wholeheartedly encourage you to cooperate with us.
Join over 750 thousand satisfied users of our lamps in Poland, Europe and around the whole world.